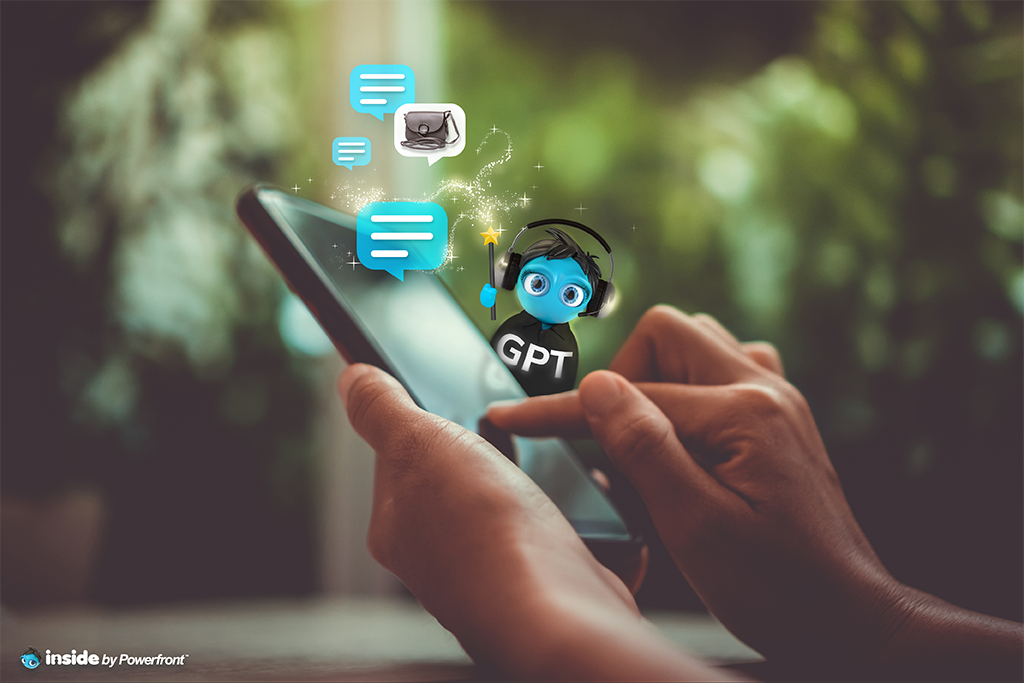 By Powerfront
It's time to transform how you do customer service.
At Powerfront, we humanize digital interactions. It's both exciting and incredibly interesting to watch the world's reaction to generative AI. Will it take over the world? Will jobs and people be lost in automation? Or, will our humans become super-powered with the right technology as their sidekick?
There are many answers and many questions still to come. From our standpoint, we have been operating on digital platforms and remote locations from our very beginning. Innovating and humanizing digital interactions is at our core and in our DNA. And so is our approach for GPT. INSIDE by Powerfront's newest feature is GPT Assistant.
Phase 1 is here for businesses and brands to leverage GPT to power up human agents and elevate your customer's online experiences and interactions.
GPT Assistant introduces ChatGPT to support human operators with:
Grammar, punctuation, and spelling.
Improving word choices and sentence structure
Generating automated customer responses to questions and inquiries
This powerful feature streamlines customer interactions, making them more accurate, professional, and polished. Part of our implementation approach is rolling out a multi-phase solution offering, giving early adopters the opportunity to implement the technology in stages across their businesses.
Phase 2 of Powerfront's GPT Assistant will see further advancements with multilingual support, direct customer assistance, chat summaries and agent training:
Agents to use GPT Assistant to auto-translate their message to visitors' language
GPT Assistant to be used to assist in training Agents/the business on what could be improved in the service experience of the Visitor/Customer
GPT Assistant to tell us the sentiment/emotion of the visitor based on their messages
GPT Assistant to summarize chat conversations – for both transfers/completion of chats – so agents can quickly review where a customer is at in their communications & buying journey.
GPT Assistant to be able to answer questions based on the business's trained support knowledge base
Are you in the discovery phase of bringing this tech into your business?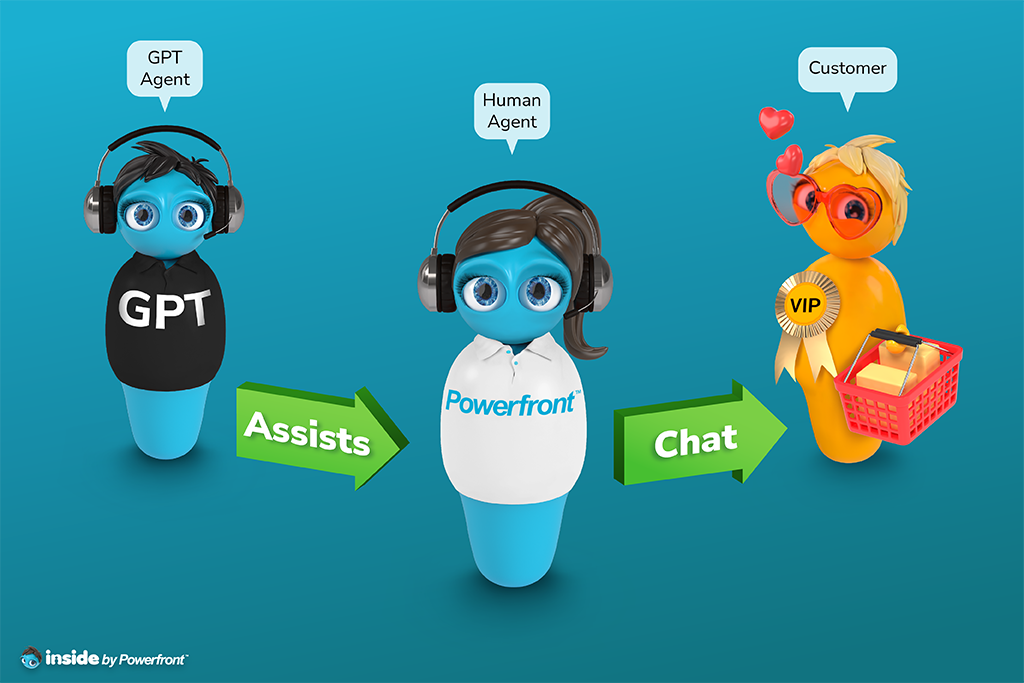 Let's break it down …
ChatGPT, a large language model trained by OpenAI, offers a wide range of benefits for businesses. One of the most significant advantages is its speed. As you see, there are many ways you can utilize the tech across many departments and industries. The key point is how you can use it to remove friction points and enhance productivity and experiences across your business.
In CX, one of the most unique features of ChatGPT is its grammar and tone. ChatGPT is programmed to use correct grammar and tone, ensuring that customer interactions are professional and courteous.
Our INSIDE by Powerfront GPT Assistant is trained with a tone of voice to a brand's choice – when interacting with online customers during live chat conversations, both human agent and GPT Assistant are a perfect match for delivering neutral support that can handle customer complaints without bias – Or months of human training!
ChatGPT can provide customers with information quickly – for example, when trained with a brand's FAQ center – it will have an instant & extensive knowledge base about the business's frequently asked questions, shipping, returns, and more. All while being able to assist human agents with fast responses to customers in active conversations.
ChatGPT can be further trained to understand a customer's intent and provide customized solutions based on their needs – hence, creating a personalized, natural language conversation for each and every interaction that is both seamless and efficient.
Another key benefit of ChatGPT is its ability to work in multiple languages. Multi-region businesses will no longer need to hire multilingual agents to provide customer support in different locations or countries. ChatGPT can communicate with customers in their native language, removing language barriers and ensuring that every customer receives the same high-quality service.
With the integration of ChatGPT into the Powerfront ecosystem, businesses can take advantage of even more benefits as the technology develops. For instance, when social channels, website chat, SMS, and emails are all integrated into the INSIDE platform, this gives businesses the capability to have ChatGPT bots working alongside human agents. This enables customers to receive the highest level of support wherever they are – making it a smart, convenient, and accessible solution for omnichannel service.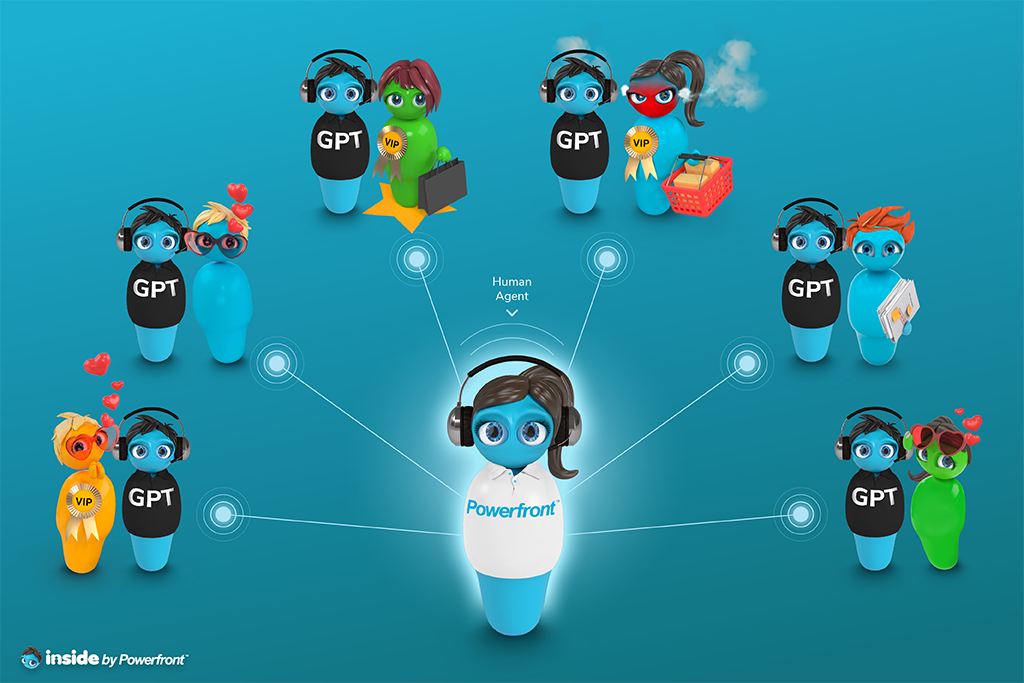 With INSIDE by Powerfront's GPT Assistant, you can unlock:
Faster, smarter service
Higher agent productivity
Faster resolution times
As you know, this is just the beginning so now is the time put generative AI on your 2023 roadmap!
Get ready to embrace the future of customer engagement by blending human expertise with AI capabilities. If you would like to learn more about INSIDE by Powerfront's GPT Assistant and its transformative impact, please talk to our team for a customized demonstration for your brand.
Send us a chat with any questions & feedback. We'd love to know your thoughts