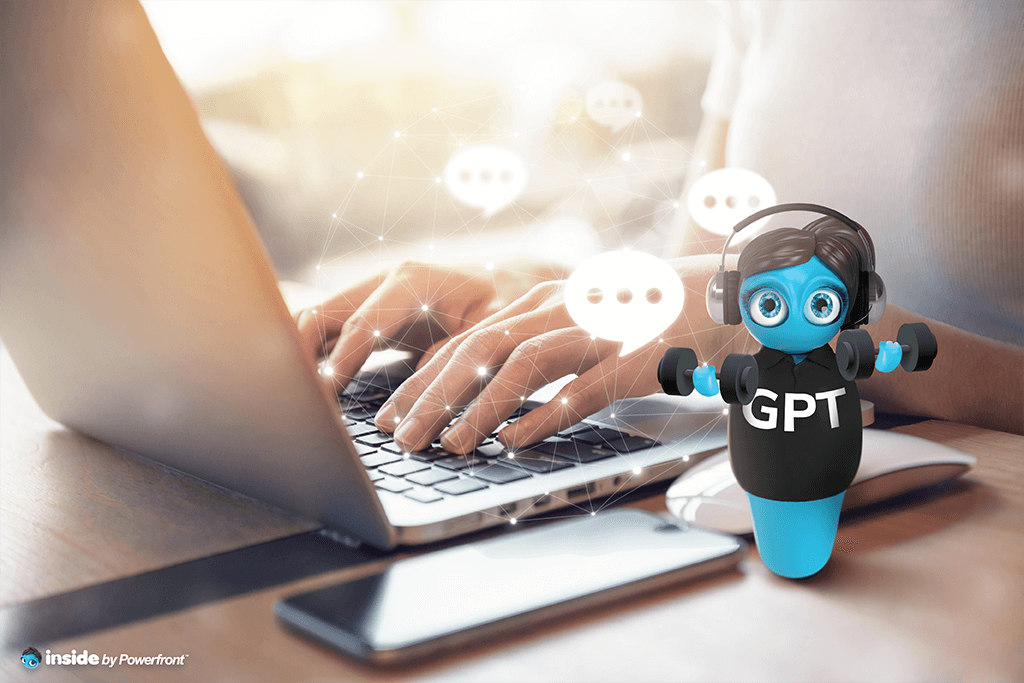 By Powerfront
Bringing AI into marketing, engagement, and communication strategies is a key trend for 2023. Its effectiveness makes it an obvious choice for customer interactions on digital platforms whilst its efficiencies are perhaps the most disruptive innovation of our lifetime.
Generative Pre-trained Transformer (GPT) technology has brought with it the ability to understand natural language and along with it, a huge ROI across productivity and accuracy gains. Early adoption sees an enhanced quality of messaging, one that ensures a professional tone of voice and just the right amount of empathy. Spelling and grammar are spot on, and customers are able to converse in their language of choice.
Striking the balance between AI and human interactions involves building a customer journey that merges AI with human operators at key points of engagement – one that requires constant tinkering. With the right tools to support, getting it right results in a positive effect across sales, customer retention, and agent utilization metrics.
Understanding how AI works hand-in-hand with human agents
Let's start with one of the biggest service challenges for ecomm – Timely responses.
If today your human team is averaging a response time of 30-40 seconds, compare this to an AI bot response of 500 milliseconds. Whilst it is still too early to make significant claims, what makes AI a game-changer is when AI-powered chatbots can proactively begin conversations with customers, whilst offering relevant information at each stage of their buying journey. The innovation allows customers to get help when and where they need it. With no wait times and friction points removed along the way.
So far in 2023, Open AI claims over 100 million users globally and 1.8 billion visitors per month. Over at IBM, the reported adoption of AI is increasing rapidly. Leading the pack are Chinese and Indian companies with a reported adoption rate of 60%. Canada is next at 28%, then the UK (26%), the USA (25%), and Australia (24%). A recent survey by Blumberg Capital shows 50% of consumers are feeling optimistic about AI – all numbers demonstrating the huge opportunity for humans working alongside AI to enhance positive customer experiences with a brand.
According to a report by Gartner, businesses that are adopting AI to support their service offering in 2023, can expect to see their customer satisfaction rate grow by 25%. This improvement is also sitting alongside a 25% expected growth in revenue and cost reduction, showing that conversational messaging is not just for assistance, but for sales and branding too.
As adoption speeds up, we see live chat continue its move to become the preferred communication channel for modern businesses looking to interact with customers in real time. Techjury (July 2023) concludes that 52% of customers prefer companies that offer live chat assistance. When you compare the satisfaction rate of live chat is 85% and the average response time is 15 seconds, you must ask, how is this stacking up against your current email and phone interactions? Where can AI combine with your humans for the most significant impact?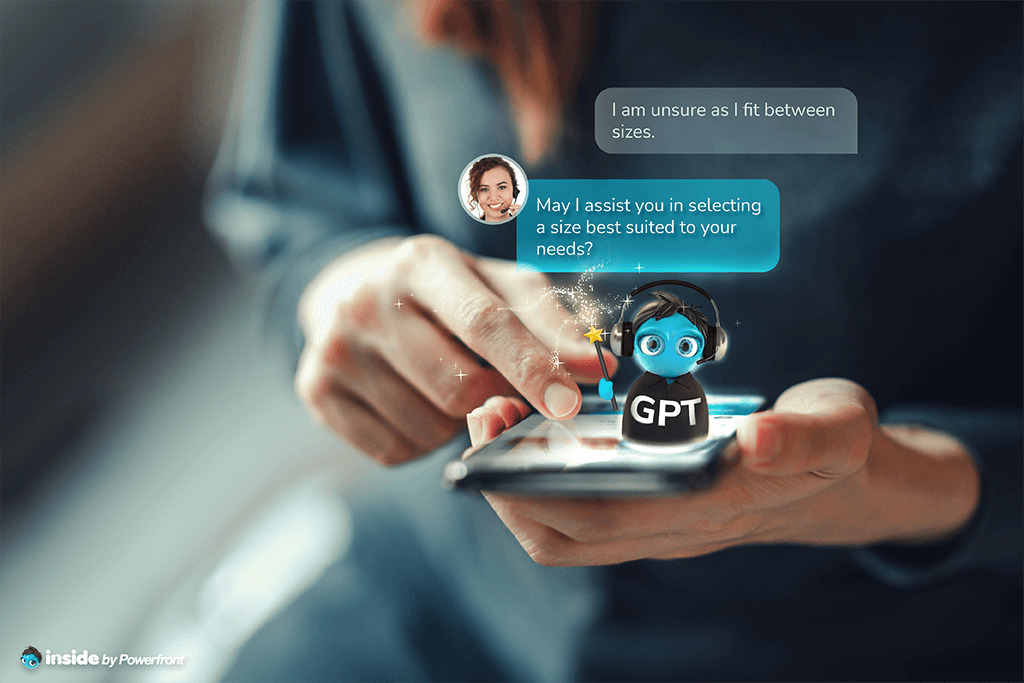 Let's break it down …
Using AI involves using technology to automate customer query responses. It can include features like chatbots, saved responses, and self-service options. Automation offers many benefits, including quick and efficient responses, 24/7 availability, growth, and with the introduction of GPT, truly humanized interactions.
Humanization – which is what we all want to maintain – is about providing a more personalized experience through human interaction. Having a live agent handle a chat or using emoticons and informal language can make the chat engaging and loyalty-building. "Real" people service is typically seen to deliver a great customer experience. Bridging tech with real humans is enabling businesses to map out and build the ultimate customer journey – both in branding and scale.
Here are 7 ways you can humanize support automation:
1 Understand Your Customers' Needs
The first step in striking the perfect balance between automation and humanization is understanding your customers' needs. This involves identifying their preferences and pain points regarding live chat and platform support. For instance, some customers prefer quick and efficient responses on web chat, while others value a more personalized experience across social platforms. Some inquiries will need a knowledge base, others human know-how.
TIP – Recognizing the placement of friction points and whether they need one-on-one interactions or messages that can be conveyed brand-friendly, make it easy to decide where to put your AI and people-power behind the screens.
2 Use Automation to Streamline the Process
Automation can be used to streamline the live chat process by automating routine queries and frequently asked questions. When leveraged properly, this can both save time and increase efficiency, allowing agents to focus on more complex issues that require human-to-human interactions. Features like INSIDE's chatbot workflows and simple saved responses can be used to handle routine queries across omnichannel support.
Phase 2 of INSIDE GPT Assistant offers a higher intelligence built off your business knowledge base. Think immediate knowledge gained, and immediate replies to multiple customers.

TIP – When you deep dive into workflows, consider automating customer inquiries that begin with How, What, Where and using your human agents to answer your businesses' Why and Who. Use automation to deliver business knowledge and train your human team to build your brand. It's a game-changer.
3 Use Personalization to Create a Human Experience
Personalization is no longer on the CX wishlist, but a requirement to stay competitive. Personalizing interactions in real-time using data-rich Emotional SaaS and AI-enabled messaging will build trust, loyalty, and lasting customer relationships. Using the customer's name and engaging in a conversation built upon an established brand relationship can help you achieve this goal. Using AI insights to detect sentiment alongside agents referencing previous interactions and purchase history, creates a well-rounded brand experience.
Using live agents is proven to build trust and provide a more empathetic response to complex queries. Implementing AI bots that operate on natural language processing and can deliver conversational greetings and responses in line with a business's communication 'style', will ensure that bot-to-human transfers are fast, easy to communicate, and enjoyable to shop with.
TIP – Follow best practices at every step of the customer journey and look for opportunities to create personnel touches – at Powerfront, we know that by adding a personal profile image of the agent, chat engagement can increase by 11%. By mentioning "I am a real person" in a proactive chat, can see lifts in the response rate by up to 70%.
4 Provide Self-Service Options
Self-service options like FAQs, knowledge bases, and video tutorials can help customers find the answers they need without contacting customer support. This can save time for the customer and support teams, reducing the workload and improving efficiency. Self-service options can also be automated with Virtual Assistants and Chatbots, allowing customers to find the information they need quickly and easily. Using ChatGPT integrations can instantly elevate the level of bot assistance that can be created online and cut down on training and set-up times.
TIP – Take note of what the specific inquiries are on your self-serve pages. For top inquiries where customers have more questions or don't seem to understand a process, trigger a pop-up video where a customer support agent can explain a fit, how to measure, or even how-to-fill-out paperwork requirements. AI assists in making repetitive answers sound fresh and always on brand and you can deliver the human touch in pre-recorded messages.
5 Monitor and Analyze Your Chat Data
Monitoring and analyzing your chat data can help you determine the effectiveness of your live chat strategy. Using an AI bot like Powerfront's GPT Assistant to summarize each interaction means that CX managers can simply search conversations by disposition read, each summary brief, and have a full understanding of issues regarding that particular inquiry. Using AI helps businesses quickly identify areas that need improvement and data makes it easy to confidently adjust your approach.
TIP – If customers are consistently asking the same question, create content to remove the friction point. Adding a proactive chat where a chatbot or a human (depending on the complexity) will respond creates a seamless experience for your customers.
6 Regularly Review Your Live Chat Strategy
Striking the 'perfect' balance between automation and humanization requires continuous improvement. You should regularly review and evaluate your live chat strategy to ensure it meets your customers' needs and is available in the channels where your customers are. This may involve testing different levels of automation and humanization or using customer feedback to make improvements. Use an engagement platform that is an omnichannel solution with on-demand and real-time reporting to support both customer and customer experience team feedback.
Ask:
Are we on the platforms where our customers are right now?
Are responses consistent in reply time and quality, across each channel?
What is our 24/7 support strategy?
How can AI bots and SMS solutions be used to fill service gaps across ecomm, social and retail?
Virtual workflows, AI assistance, and practical solutions like sms and social media all help connect you to your customers, wherever they are.
7 Provide Training and Support for Your Agents
Humanizing digital interactions relies heavily on the skills and knowledge of your agents and the abilities of the platforms you engage upon. Providing training and support can help them deliver a more personalized and engaging experience to customers. This can include training on communication skills, product knowledge, and customer service best practices and also ensuring they have a full understanding of the platforms they engage upon. Implementing developing technologies such as an AI chatbot that your human agents work hand-in-hand, means as the tech develops the AI bot also becomes the trainer.
Getting started with humanized support automation
Understanding your customers' needs helps you determine the level of automation and humanization required to provide an optimal experience. Chat with our Powerfront team today to learn how your business can remain fluid and proactive in creating the ideal customer experiences across the communication channels of your business.